2015 (65)
Spectre
Angel P107
Spectre was (or is, as its potentially being re-born with a new model under development) a small British manufacturer that successfully produced the Spectre R42 designed as a modern Ford GT40 for the 90's. The Spectre car company appeared to melt away in the late 1990's but the rights and property were taken over by C2P (Concept to Production) Ltd who continued to secretly develop the idea of a new Spectre model while providing automotive consultancy work to various manufacturers. By 2001 C2P were designing a new supercar under the name of Project 007 and the Spectre P107 here is the prototype that was built up to prove the concept in 2003. Unusually this unique prototype is now road registered in the UK and provides a truly one-off car that can still be suitably personalised by the new owner!
• The two-seater body is in fully lightweight carbonfibre by SP systems on the Isle of Wight using a pre-preg process. Body moulds are included.
• The camouflage detail is the original paint scheme to help disguise the body shape of the prototype.
• Scissor door entry to cabin.
• Custom interior wrapped in leather, alcantara and wilton carpets.
• Mid-engine Ford 4.6 V8 crate motor. There is a spare supercharged engine available.
• CIMA 6 speed manual transmission, same unit as found in Pagani & Koenigsegg
• Purchased from C2P in 2010 as a partly dismantled project with some missing parts when the business was closed
• Five year rebuild to UK regulation standards and road registered in 2015 as a new car.
• Full and extensive selection of parts to further tune or replace (engine, engine ancillaries, wheel set, discs, pads, calipers, springs, shocks, bushes etc etc), large selection of the original unique moulds including boot, bonnet, side panels, scissor doors, spare light clusters and glass to include windscreen, quarter & side windows and all light covers.
• Full documented history on the concept, build up and parts invoices, SVA and registration documentation, wiring diagrams and parts listing.
• It's a one-off road registered supercar prototype with just over 1,500 miles since registration.
• Cost C2P over £1.5 million to build, a large amount but relatively small for a supercar development!
Car History:
Concept to Production (C2P) Limited based in Milton Keynes owned the rights to Spectre Cars and developed prototype cars as well as providing consultancy work to major manufacturers. Their plan was to develop a new supercar utilising the Spectre brand, but one that was updated with the latest design and manufacturing considerations.
P107 was the first prototype made for the Spectre 007 project – hence P (prototype), 1 (number 1), 07 (project number). Styling was done by David Hilton ex chief designer at Ford where he designed the Focus RS Mk1 for Ford and was head of automotive design consultancy Motorcity Europe. The body shape came straight of the Alias software, the automotive industry modelling standard styling technique. A full-size clay model was milled to the data and all the interior surfaces were designed in CATIA and patterns milled out or made by hand for the simpler parts.
The body was made in collaboration with SP Systems of the Isle of Wight and made in C2P's composite oven in Milton Keynes. The entire body, with the majority of inner composite panels are carbon fibre. Aluminium was also used for some of the simpler inner closing panels. By using SP's latest pre-preg vacuum bagged system with a glass surface film eliminated any weave print-through. The rear body section behind the bootlid is designed to raise and form a spoiler operated from the dash.
The chassis design was based on the last Spectre Prototype (P1.6 or R45 as it was more commonly known) but designed 205mm longer so it was able to accommodate a V12 engine length if required. The longer wheelbase further aided stability at very high speed and under extreme braking compared to the last Spectre revision. The chassis had the sheet metal sections Zinga coated internally and was then fully silver powder coated for longevity.
The brakes and suspension parts were identical to the Spectre R45, although the rear suspension was installed to provide longer travel before hitting the bump stops.
P107 was successfully built up into a running vehicle in 2003 that drove very nicely and the confidence that it inspired in the owner of CTP enabled the company to continue the development with further pre-production prototypes. As such P107 was partly dismantled as a guide for building further prototypes and to use the powertrain elsewhere. It remained in this state until early 2010 when C2P unfortunately closed for business and its stock was sold on. The development process at CTP did not ever get into the final production stage

Over the next five years the Spectre P107 was built up with the aim of becoming a comfortable road registered vehicle, this scope was mainly managed by Southways Automotive in Fareham. The rebuild included the sourcing of parts to complete, building the interior, fixing issues and development work as well as adhering to stringent IVA regulations. The car passed its IVA test in June 2015 and was subsequently registered by the DVLA on 2nd September 2015. It has continued to evolve and is ready for a new owners further personalisation.
Technical Specification
Body/Chassis.
Lightweight carbon fibre by SP systems on the Isle of Wight using a pre-preg system. Windscreen is an R42/R45 unit, cut down at the edges, side windows are polycarbonate and electrically operated. Twin alloy VDO fuel filler caps. The camouflage stripes are painted. Chassis had the sheet metal sections Zinga coated internally and the fully silver powder coated. Rear light cluster incorporates Perei LED stop/tail/direction and fog/reverse lights and the front Hella lighting. Body designed with scissor door opening with fully working hinge, damper opening and electric windows & door mirrors. Central locking is keyless remote and doors are opened by discrete push buttons incorporated in bodywork. The interior and engine bay are fitted with zicroflex heatshield and dynamat sound deadening as required
Engine. New 4.6 Ford V8 2000-2004 SOHC engine serial number 66428982. MBE road ECU, engine mapped at Road n Track by Steve Greenauld. The engine was tuned for road use and VOSA compliance: Peaks of 260 BHP and 300 Ibft were recorded. Twin fuel tanks connected with balance pipe and fuel caps on both drivers and passenger sides. Magnecor HT leads
Stainless exhaust fabricated by Janspeed incorporating twin catalytic converters, system designed to pass SVA noise & emissions.
Note: there is a modified Supercharged 4.7 Ford SVO V8 Cobra engine available with all ancillaries that is circa 500HP/500Ibft. It was built from a 98 Cobra spec engine and cost around £20,000 to build. Engine serial number 74767347 S001 – this engine was changed out during the SVA as we were not able to get it close to emissions standards. Spectre P107 still incorporates the intercooling system for this engine in the engine bay.
Transmission.
CIMA T756H six-speed H pattern gearbox (similar to the unit found in Pagani & Koenigsegg). Triple cone synchronisation for 1st & 2nd gears and double cone for remaining gears. Synchronised reverse. Torque sensing self-locking differential. GKN driveshafts and AP Racing twin-plate clutch.
Gearbox ratios: First 2.875, second 1.773, third 1.267, fourth direct, fifth 0.833 and sixth 0.711, reverse 3.00.
Suspension.
Double wishbone suspension, Bilstein gas dampers, Eibach coil springs and anti-roll bars front and rear. The suspension is largely the same as the Spectre R45 except the vertical position of the rear suspension pick-up points were modified to provide a slightly different ride height and longer travel before hitting the bump stops.
Brakes.
Front Alcon ventilated 330mm front disc brakes and Alcon 4 pot brake calipers. Rear Alcon ventilated 300mm rear disc brake (incorporating cable handbrake shoe assembly) and Alcon 4 pot brake calipers.
Steering.
Adwest power rack, mustang power pump and Heidt adjustable power steering valve. VW column, Adwest steering tie rods and ball joints. Momo steering wheel.
Wheels and Tyres.
The front wheels are Braid split rims 19" x 8" five stud x 114.3 PCD with a 50mm offset. Tyres are Dunlop SP Sport Maxx 225/35ZR19 tyres. The rear wheels are Braid split rims 20" x 10" five stud x 114.3 PCD with a 17mm offset. Tyres are Dunlop SP Sport Maxx 285/30ZR20. Wheel studs are M12 x 1.5 pitch. Tuner lug nuts.
Interior.
The whole of the interior – roof lining, dash, centre console, door cards, side and rear pods with transparent bulkhead window to view engine are custom built and covered in a blend of black leather, black ostrich hide, grey/black alcantara with black wilton carpets. The adjustable carbon fibre seats are from an Ascari KZ1 and recovered in black leather. The dash area houses a SPA kitdash 2 system with combined analogue speedo, tacho, fuel gauge, temp gauge, oil pressure gauge and warning light cluster. LCD display is used to show mileage, trip mileage, fuel, temperature and oil pressure on a rolling display dash. The drivers area is topped off with a Momo steering wheel, alloy gear knob and alloy ventilation controls throughout. Air Conditioning is provided via a VW Climatronic control hidden in the central console. The interior also features an integral roll-over bar
Sound.
Central phone/tablet mounting with audio jack & charger, Hertz Speakers in drivers and passenger footwell, Tweeters in door cards and Genesis Amp and JL Audio Sub Woofers in Boot.
Security.
Global Telematics SmarTrack tracker, Thatcham Cat 2-1 upgrade alarm
Weight.
Gross 1650 kg. Axle 1 700kg. Axle 2 950 kg. Allowance made for curb weight (including max capacity of fuel tanks, engine oil and coolant), 2 x passengers of 68kg each & luggage.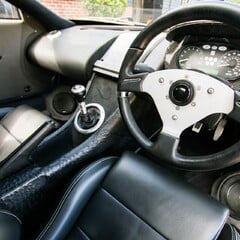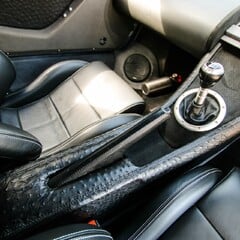 Vehicle Enquiry

Vehicle of interest:
Spectre Angel P107
Email Vehicle

Vehicle of interest:
Spectre Angel P107